These are some of our favorite projects we have had the privilege of working on. We love being included in anything that strengthens and brightens the vibrancy of communities. We would love to add yours to the list!
Gibsonville community branding
Motley worked with Gibsonville, North Carolina to facilitate the creation and the rollout of a community-informed brand. The brand was created for small businesses, organizations and community members to build place attachment. Motley conducted strategic planning and facilitated focus groups with community members, Gibsonville Merchants Association members and town staff to create the new brand. Motley created a new tagline and logo for the town, as well as a website, gibsonvillenc.com, for the brand to live, easily accessible and downloadable for community use. Motley is actively facilitating a town-specific Instagram, @gibsonvillenc, in tandem with the brand to highlight growth in the area and ensure accurate and inclusive storytelling of all community members.
PlaceBased marketing & Social Media Management
Vibrant photos bring to life the character that makes a place worth visiting. Motley curates Instagram feeds primarily using pre-existing content from residents and visitors. Utilizing user-generated content ensures the stories of all who call a place home are being told, rather than just the experience of one. We utilize social media platforms to create place attachment for current residents as well as attracting new visitors.
Motley has curated and facilitated live, community mural paintings. Motley commissions the mural through a local artist, communicates design ideas and expectations from the project lead, finalizes details, and is present for day-of facilitation. This type of project is one of our favorites! This is a simple initiative that includes your community in the public art process while allowing for social media exposure and increased tourism long after the event. The community painting does best if it is housed within a pre-existing festival or community event. Murals have increased community engagement and beautification efforts in multiple downtowns.
Engage events bring together involved community members to platform existing city-specific initiatives and to gain momentum around furthering resident pride and involvement. This event series has been conducted in multiple communities to open the conversation and make room for collaboration around enhancing placemaking efforts and rallying around the downtown community. Motley facilitates the event from start to finish with strong buy-in and guidance from community and city representatives.
CAMPAIGN DESIGN MATERIALS
We collaborated with local leadership and designed fundraising campaign materials for Foothills Food Hub, a new community food hub in Marion, North Carolina. For this project we designed rack cards, pledge letters, t-shirts, stickers, and banners in order to grow community buy-in and local support. We collaborated with various food-focused organizations in McDowell County to compile a monthly newsletter for community members and key stakeholders. These materials also assisted in raising funds and awareness surrounding the initiative.
Motley has developed a social media workshop specficially for downtown small businesses and other related organizations. This workshop covers target market identification, a deep dive into social media platforms for business, analytics/reporting and tools to utilize most effectively. This workshop was developed to strengthen the downtown ecosystem and their ability to reach their target customer in order to catalyze growth.
Gibsonville Marketing Analysis
Motley was commissioned by the Town of Gibsonville to complete a frontward facing marketing analysis of social media and websites to establish a baseline to leverage in future marketing efforts. Motley secret shopped downtown Gibsonville, downtown events, 10 strategically chosen businesses and 4 town departments. Motley then developed an analysis report, presented findings and developed action steps to be utilized as a result of the baseline findings.
Motley was commissioned by a city-specific nonprofit to facilitate the creation and roll out of Love Graham. The brand was created for small businesses, organizations and community members to build place attachment and showcase pride of place during a pivotal time of growth for Graham, North Carolina. Motley conducted strategic planning with a community organization to produce the best results for brand rollout and worked with a local graphic designer to produce the image. Motley created a website for the brand to live, easily accessible and downloadable for community use. Motley also facilitated a town-specific Instagram in tandem with the brand to highlight growth in the area and ensure accurate and inclusive storytelling of all community members. The impact of this brand has elevated the community and its businesses within the region. The logo and tagline created for the community of Graham has served as a catalyst for outstanding growth in the area.
We facilitated a community art initiative in the form of a pop-up art gallery to showcase over 50 local artists' pieces. For the event, we curated the site location, artist partnerships and secured food trucks and local beer. The art gallery brought 400 people to the opening night of the event and expedited the vacant building being rented by a local business. This project showed a ripple effect throughout the community with more art shows planned and more local business participation.
Love Graham Sidewalk Festival
We partnered with a local art organization to host the first Love Graham Festival consisting of local art vendors, a live mural painting, beer garden and music. We facilitated the event's city approval process and worked with Graham Police Department on road closures. We also marketed the event, organized business involvement and curated the beer garden. The Love Graham Festival brought positive press coverage and increased foot traffic and community engagement in downtown Graham.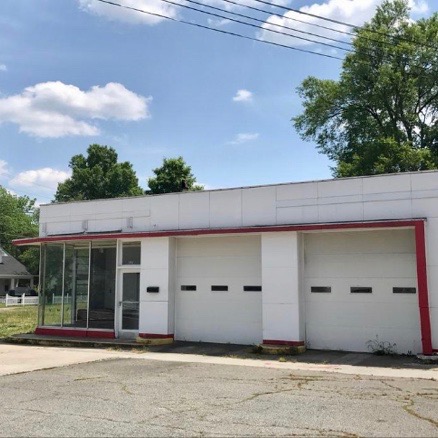 Motley is successful in bringing businesses into downtowns. Through putting together feasibility studies of vacant buildings and creating relationships with property owners in the area, we garner contacts in the business community looking to begin or expand. We have facilitated businesses opening and/or relocation between landlords and potential tenants from initial impressions, to signing a lease and opening their doors.